Now it's time to learn all about the Striped Bliss Blanket so you'll know exactly what we're making.
I love hearing from you in my Homelea Lass Facebook group so pop in and tell me how you're going, ask me your questions and share your progress photos. I love seeing what you're up to on Instagram too, so tag your photos with @homelealass #homelealass #hlblissblanket.
what we're making
We're making a Bliss Blanket that has 12 coloured stripes. The stripes can be done in any colour and are done by seamlessly joining the yarn at the start and end of the row.
The gorgeous loops and lines of this blanket are created by double crochet (US single crochet) stitches that are worked through the front loop of the stitch below. The stitches on the edges of the blanket are worked through both loops to give the blanket structure and strength.
There are 5 parts to making the Striped Bliss Blanket:
part 1 – foundation chain to row 10
part 2 – rows 11 to 23
part 3 – rows 24 to 35
part 4 – rows 36 to 49
part 5 – finish off your blanket
The Striped Bliss Blanket in the image below has 6 different coloured stripes, repeated twice. The stripe colours are minna pink, vintage purple, grey, indigo blue, mint green and charcoal grey.
The main colour is natural.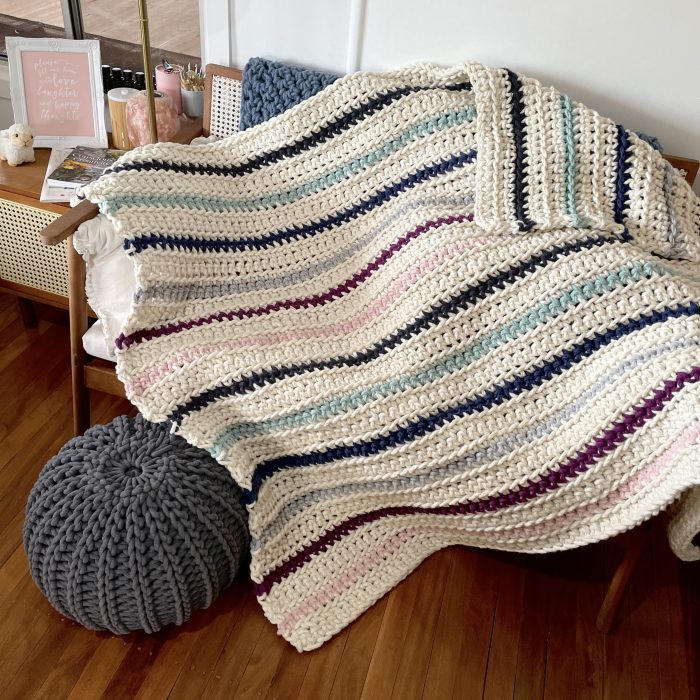 the blanket size
It's time to start filling in your Progress Worksheet! Go to "the blanket size I'm making" and complete it with the info from down below.
The Striped Bliss Blanket is 1.5m (4.9ft) across the length of the rows, and 1.2m (3.9ft) high.
Because of the weight and stretchiness of this blanket, the sizes and gauge are indicators only. It's handy to measure your Striped Bliss Blanket as you're making it to check it's the width that you want.
gauge / tension
9 stitches in 20cm (7.9in)
8 rows in 20cm (7.9in)
how to make a different size
Making a different sized Striped Bliss Blanket is easy. Here are a few different ways to do it:
increase or decrease the number of stitches in the foundation chain and subsequent rows, or
increase or decrease the number of rows, or
change the size of your yarn and/or crochet hook to change both the width and height.
skill level – easy
The Striped Bliss Blanket uses simple stitch patterns and I recommend making it after the Warm Heart Blanket.
what you'll learn
This is what you'll learn while making the Striped Bliss Blanket:
slip knot
chain
double crochet (UK terminology) / single crochet (US terminology)
double crochet through the front loop only (UK terminology) / single crochet through the front loop only (US terminology)
seamless colour joins at the start and end of the row
how to fasten off
how to weave in ends
what you'll need to know
It helps to know how to do these stitches and techniques before starting the Bliss Blanket:
how to wind a skein into a ball
counting stitches
checking the row length
have done some crocheting before