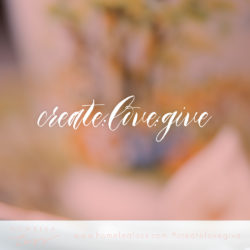 Create:Love:Give makes it possible for you to lovingly baby blankets for people that are genuinely struggling. 
Creating and giving with love is powerful. It puts a smile on your face and fills your heart with love.
Over the last couple of years I have loved making and giving to Helping Hands Dalby – a rural, grassroots charity which helps people that are genuinely going through a tough patch.
I've seen first hand the help that they give and they distribute everything they receive to people that are genuinely struggling in the local communities.
How does create:love:give work?
It's simple – you make a baby blanket (or something similar) and pop it in the post to Helping Hands Dalby, 362 Gulera Road, Dalby QLD 4405.
There are no specifications on what to make, whatever feels right for you is perfect.
The hashtag we're using is #createlovegive.
Thank you so much for wanting to be involved with create:love:give.
With love, Lynda.