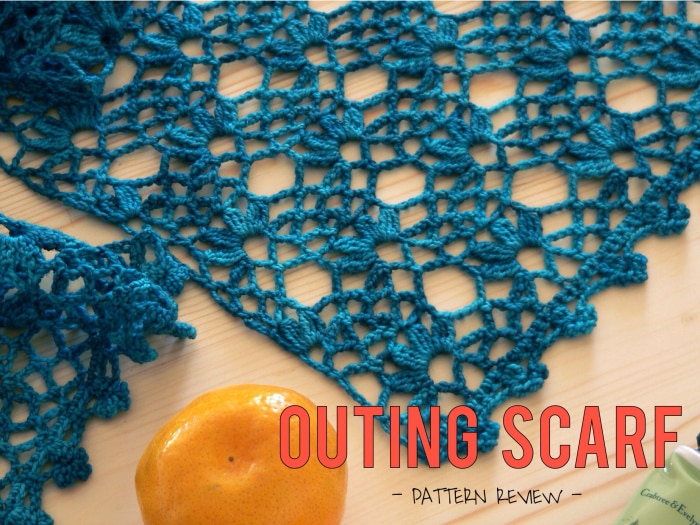 This week I finished crocheting Pierrot's Outing Shawl pattern and I had to share it with you because it's turned out beautifully!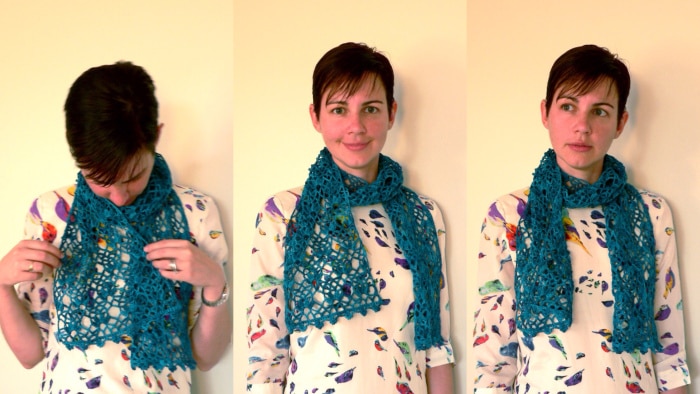 I came across this pattern because I had two skeins of Knitsch 4ply sock yarn in a gorgeous teal colourway called Sinatra that was too amazing to sit in my yarn cupboard.  Sinatra's not just a flat teal colour, it has different depths of tealness that looks amazing.  Anyhow, I went searching on Ravelry for a suitable pattern and came across the Outing Shawl.  It turns out that this was a yarn-pattern combo that was made in heaven because I only had a little bit of yarn left over and the finished product looks and feels beautiful.  I must say that although it's called a shawl it's size is more of a scarf in my opinion.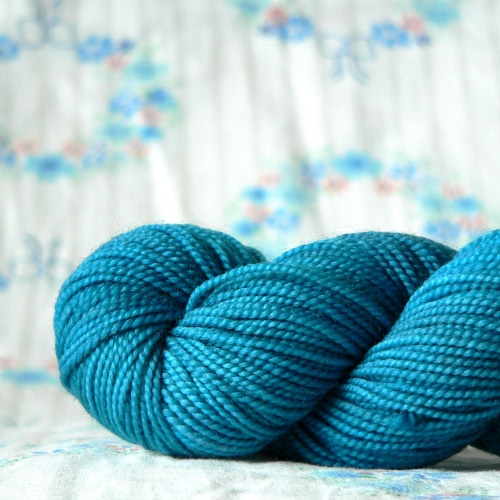 perfectly suited for . . . 
This scarf is perfectly suited for wrapping around your neck when the weather is not warm but it's not cold either – like when the air conditoning in the office is a tad cool or to combat the evening chill when you're out enjoying the end of the day.  Even though the Outing Scarf is light, delicate and lacy I was surprised by how warm it feels around my neck.
why you should make this . . .
The edging is cute!
It's a free pattern.
The pattern chart is easy to follow.
It's a great "stash buster" because you only need 100g or 334m of 4ply yarn.
It's size and weight makes it the perfect for working on when you're out and about.
This scarf is (relatively) quick to make, it took me about 10 hours to crochet the body.
You've mastered the basic crochet stitches and want to make an awesome scarf!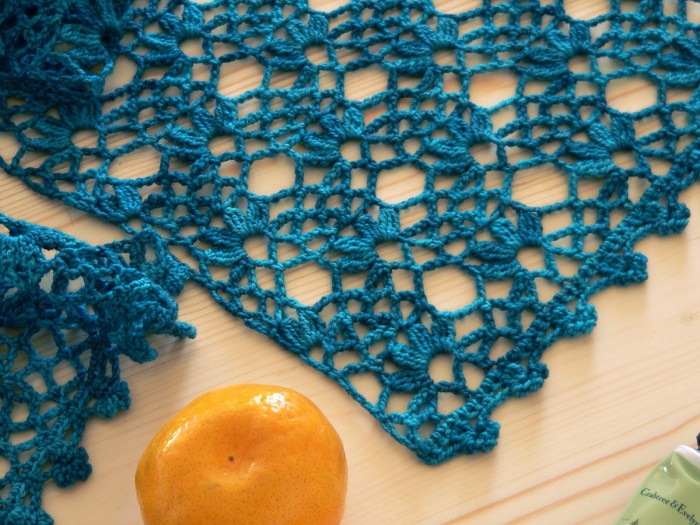 top tips . . .
Here are my top tips for making the Outing Scarf:
Work the dc's into the chain space, not into an individual chain to form the scallops.
Finish the body on a row 6.
When doing the edging work the slip stitches of the 3 petals into the first chain after the 3trtog.
Check that the first row of the edging is worked with the same side of the scarf body facing forward.
I seriously recommend blocking your finished scarf, it opens out the pattern and makes the scarf drape beautifully.
This is what the finished scarf looks like before blocking: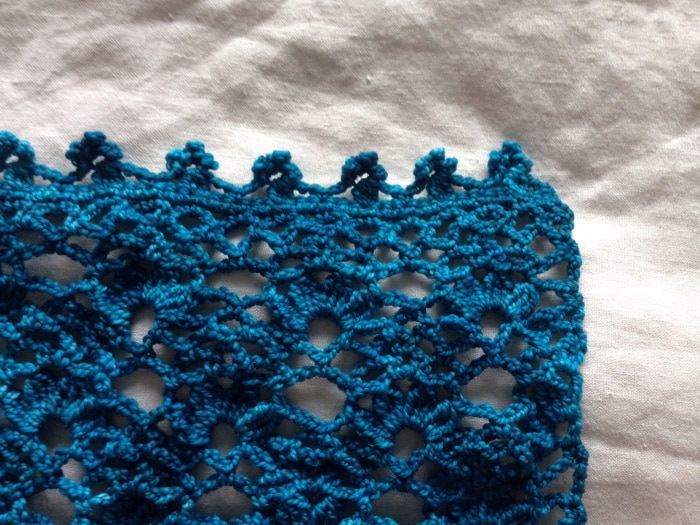 This is what the finished scarf looks like after blocking: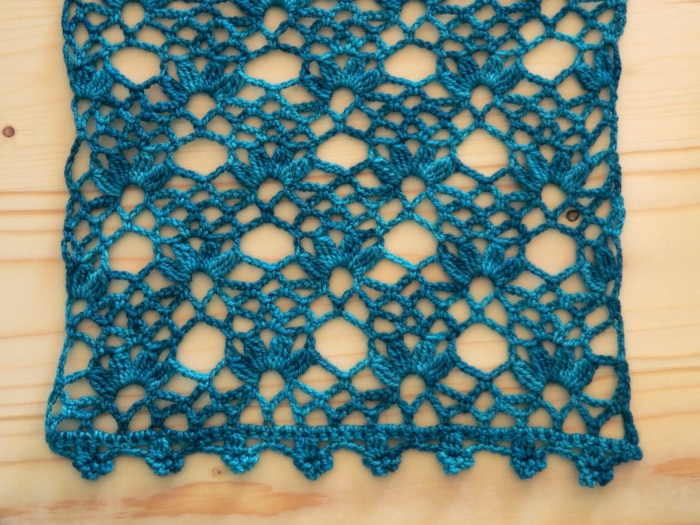 Blocking does amazing things doesn't it!
more on blocking . . . 
When I made my Outing Scarf I blocked it by soaking it for 15 minutes, rolling it in a towel to remove the excess water and then I pinned it out and left it to dry. I've since bought a set of blocking wires from Yay! for Yarn called the blocKit. I would now use the rigid wires from this kit in addition to pinning because it will create a more even edge.
I'd love to see a photo of your finished Outing Scarf – share it on the Homelea Lass facebook page or tag @HomeleaLass on Instagram.
You can find my finished scarf on Ravelry here.
Cheers,
Lynda.
P.S. Check out the second outing scarf I made using cotton here – it's great for adding a bit of colour and life during the warmer months.