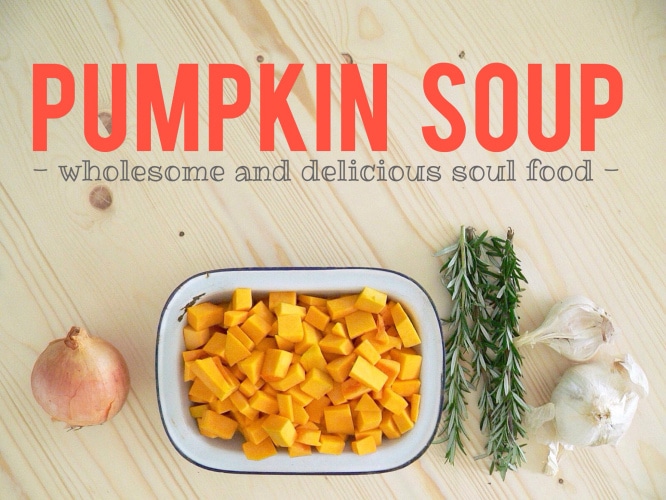 Pumpkin soup is soul food. As the first spoonful enters my mouth it's delicious goodness spreads and it fills the cracks inside me with it's warmth.
Somehow pumpkin soup always makes me feel good on the inside, so I thought that I'd share my soul food recipe with you. This is how I like to have my pumpkin soup – with plenty of garlic, a bit of rosemary and lots of organic goodness. It's great to have as a light dinner, or for lunch. (If you want to read more on how to eat more wholesome food pop over here).
Wholesome Pumpkin Soup
Serves 4
Ingredients:
1 tablespoon olive oil
1 organic brown onion, peeled and diced
1/3 cup of organic garlic, peeled and diced
750g organic pumpkin, diced
4 cups water
1/4 cup organic rosemary
crusty bread
Tools:
Large saucepan and lid
Cutting board
Knife
Measuring cups and spoons
Stick blender
Large spoon for stirring
Ladle for serving
Bowls for eating
Directions:
Cut up the ingredients.
Place a large saucepan over a medium heat and add the olive oil.
Add the onion and garlic to the saucepan and cook until the onion becomes transparent.
Add the pumpkin, water and rosemary to the saucepan. Cover the saucepan and bring the soup to the boil, then simmer for 30 minutes or until the pumpkin is soft. Stir occasionally.
Remove the soup from the heat and puree it using a stick blender until the soup is glossy.
Pour into bowls and serve with crusty bread.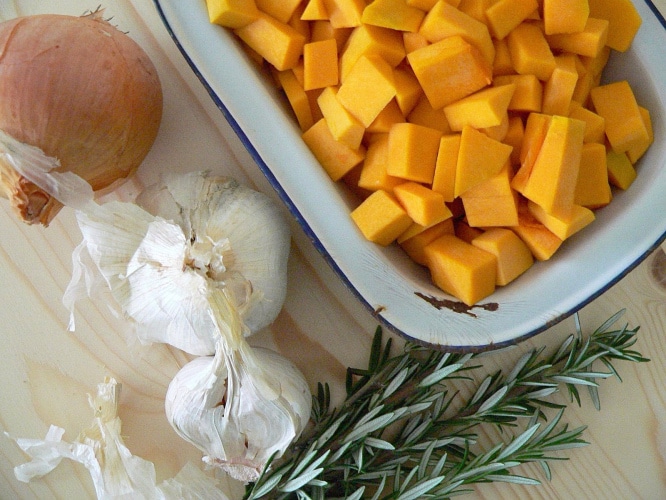 I'm a big fan of having homemade crusty bread with my pumpkin soup. When I'm almost finished I like to wipe the bread around the outside of the bowl so I get every last bit of goodness. What do you like to eat with your pumpkin soup?
Cheers,
Lynda.