It's the most wonderful time of year for me at Homelea Lass. It's been a very fruitful December with so many beautiful kits and pre-made lovables on their way to their new homes. I have loved watching my little business flourish this year all while helping you make beautiful things. Every time I receive a new order it brings me so much joy to know that someone is going to receive so many good vibes from their little parcel of happiness. It's a truly great feeling.
To show my gratitude for your ongoing support I am now offering FREE Express Shipping on all orders over $50! So there's plenty of time to order now and ensure your gifts arrive to you with plenty of time to pop under your Christmas tree. I will be running this offer until Christmas Day and it includes both Australian and International orders.
Have some time off this holiday season? Going somewhere relaxing? Why not gift yourself the time to learn something new and be rewarded by a wonderful keepsake to remind you of this magical time of year. Each item you create will provide you with the opportunity to relax, unwind, and open your mind to being creative. It's a truly wonderful experience for all. It's never too late to learn something new, or pick up the crochet hook after a break.
For The Beginner:
The Chunky Crochet Starter kit ($95) provides you with an opportunity to delve into the crochet world completely prepared. Included in the kit is the Homelea Lass 100% Australian made merino wool, crochet hook, and 14 patterns so you can create whatever your heart desires. This makes the most wonderful gift for a crafty lady.
For The Young At Heart:
The PomPom Bag & Key Clip Kits ($39) comes with everything you need to make two pompoms. These kits were extremely popular at The Big Design Market in Sydney, with customers purchasing them as stocking fillers and secret santa gifts. The Homelea Lass wool is the secret to creating these full, fluffy and perfectly round pompoms – you will become an expert at crafting the perfect pompom every time all thanks to our superb pompom maker.
For The Master:
The Chunky Crochet Blanket Kit ($550) is ideal for those wanting to truly master the art of crocheting chunky blankets with seamless yarn joins, neat edging, and all the basics of the various crochet stitches. Completely supported by my video tutorials and weekly live calls, this kit is designed to provide you with the confidence and skills to create wonderful keepsakes as well as I do. If you have time this summer to master the art of crochet, you will be well and truly prepared for Autumn with your very own Chunky Crochet blanket – which will last you a lifetime!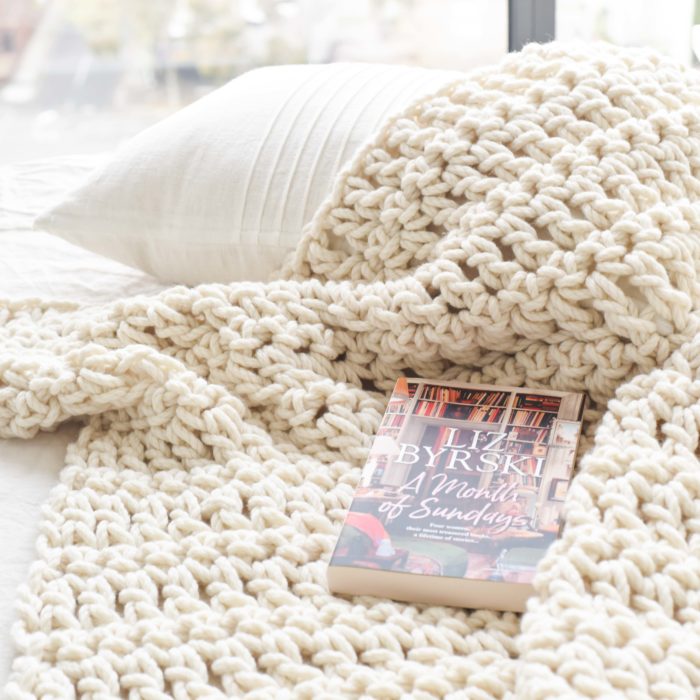 If you want to make orders throughout the holiday period, I will be open. So it's never too late to place an order!
Don't forget that FREE Express shipping on orders over $50 is available until Christmas Day. And, if you are in Melbourne you can take advantage of my free pickup option on any order large or small.
 With Love, Lynda.