You know the song "when the going gets tough, the tough get going"? My version of this is "when the going gets tough, I get crocheting".
Let me explain why… 
So much change and transformation has happened in my life because I crochet. From dealing with boundless amounts of stress as a project manager for a large corporate to moving through the pain and frustration of chronic fatigue, crochet has been there for me all the way through – every bump in the road, every triumph and every moment of solitude.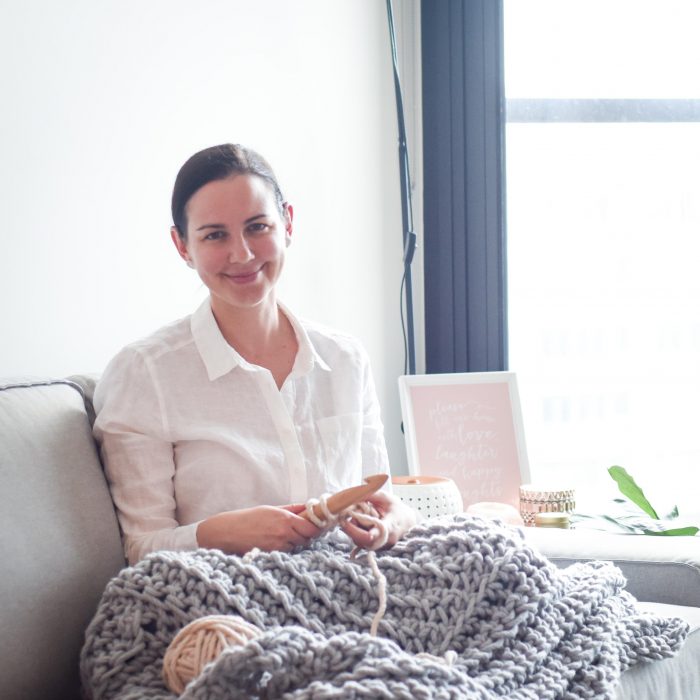 How did I find crochet you ask?
Well, I taught myself to crochet from a book. I followed the foreign words of the crochet pattern, step by step, and with my trusty plastic crochet hook and ball of pastel blue acrylic yarn, I learnt to crochet. My stitches were wonky, my edges uneven and I had absolutely no idea if I was doing it right. From those tentative stitches my first crochet blanket was formed.
At the time, I didn't realise how important learning to crochet would become in my life.
At the very depths of my chronic fatigue, when I didn't know if I would even lead a "normal" life ever again, that is when I truly discovered the power of crochet. The gentle movements of the stitches soothed my soul and healed my pain – they helped me to look inwards and reconnect with who I really was.
Now that I'm leading a "normal" life again, I still reach for my crochet hook when I feel overloaded by the craziness of my modern life. Crochet has become my creative healing and the way I practice mindfulness. It helps me to let go of everything that is dragging me down, and tap into my happy place. Crochet helps me to create my happy life, and to be a better person.
Over many, many crochet stitches I've developed a way of crocheting that couldn't be further from how I learnt to crochet through my trusty book. Here is what I adore about the way I crochet now, in comparison to my early days learning my craft:
I now have the privilege of working with soft, luscious yarns that give crocheting a buttery softness, and, at the same time, support passionate growers and makers around me.
I feel grounded as I stitch away with crochet hooks that feel warm in the hand and connect me to the power of nature.
I enjoy big, generous stitches that are easy to see and quick to make.
I have been able to create detailed videos that show others exactly what to do – helping others find themselves through creative therapy.
My form of chunky crochet is a new way to crochet. It is an easy, frustration-free way of learning a creative skill that will become your mindful meditation, and your way of making beauty for you and your home.
Because crochet has impacted my life for the better in so many ways, I am truly passionate about sharing my love of crochet with the world – so you can create your happy life too. My deepest desire is for you to experience what I have when, stitch by stitch, I've gradually changed my life.
Happy crocheting!
With love, Lynda.