There's something heartwarming and comforting about snuggling up in a chunky blanket, and it feels even better when you've woven love in with every stitch. Chunky crochet is calming and therapeutic for me, and there's nothing more relaxing than sitting down and making flowing stitches again and again of your chunky blanket.
Over the years I've learnt how to easily crochet stunning chunky blankets, and I've developed Blanket School so that you can do this too – even if you can't crochet.
The easiest way to learn to crochet is with chunky yarn, big hooks and detailed video tutorials – an expert teacher helps too! Blanket School provides all of this in our online classroom, and also has an online community where you can get personal help and connect with others just like you.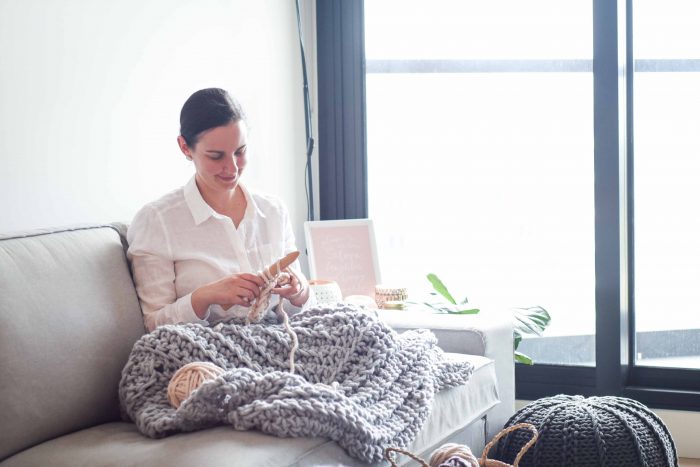 Did you know that Blanket School is much more than just making a chunky blanket?
start – by mastering the fundamentals of chunky crochet while easily making your own Warm Heart Blanket
continue – to learn more about crochet, creativity and mindfulness through the online courses and monthly masterclasses
get help – about crochet, creativity, mindfulness and essential oils in our weekly live calls, mindful moments & supportive facebook group
connect – with like-minded creatives in our online community
Our Blanket School schedule
Everyone that joins Blanket School makes the Warm Heart Blanket to master the fundamentals of chunky crochet – you'll succeed at making gorgeous blankets every time. Each week we guide you with a new part of the blanket to make, but if you get in the flow you can finish your blanket in one sitting!
Once the lessons are released you can access them any time you like, and after completing your Warm Heart Blanket you'll be able to make the other 5 blankets!
Don't want to make a chunky blanket with premium Australian merino wool?
I've designed Blanket School so that you can use different types of yarn. Simply go to your local yarn or craft store and find a yarn that's about 1cm in diameter – you'll need at least 400m of it.
You'll also need a 25mm crochet hook, scissors, tape measure, 2 stitch markers (or pieces of yarn) and a Chunky Yarn Joining Kit (optional).
20% off and free express shipping
Did you know that Blanket School students get 20% off everything in my online shop, and this week they also get free express shipping! You'll be starting your chunky blanket before you know it!
Join Blanket School
Want to know more about Blanket School – head over here to learn more.
I'm looking forward to helping you in Blanket School!
With love, Lynda.