Are you feeling the winter blahs? Are the cold winds and grey clouds getting you down?
I've discovered the perfect antidote for all the grey-ness of winter, and I'd love to share it with you!
drum roll please . . .
Not only will it add life to your winter outfits, but it'll also lift your spirits and bring a smile to the face of everyone that sees you.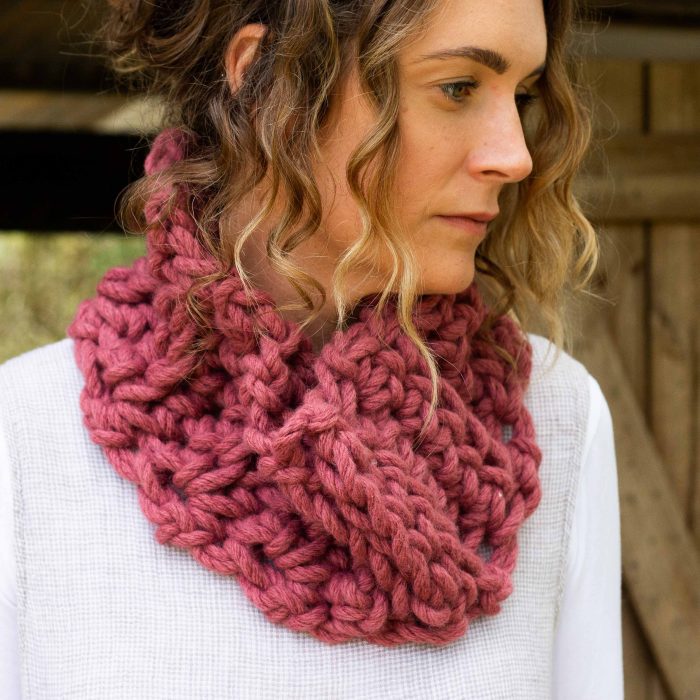 I've been wearing my Melbourne Snood a lot this winter, and it's so versatile!
It doesn't have any loose ends to get in the way like a normal scarf does, and it looks great over dresses and tops or snuggled in under your big winter jacket.
I'm wearing mine inside and outside, and it feels good to have the warmth around my neck (hello chunky blanket you can wear everywhere) and it feels even better to be wearing something that is made with love.
The other thing I love about the Melbourne Snood? It doesn't cover me in fluff, and it's easy to care for.
The most popular colours
The Melbourne Snood has been a favourite this winter, especially in Rhubarb, Cumin and Oatmeal. I'm loving wearing it in Mushroom – it feels so soothing to me.
Rhubarb
Cumin
Oatmeal
Mushroom
Olive
Natural
Donkey
Grey
Navy
Steele Blue
To make, or have it made?
This is always the dilemma – will I make it myself, or will I buy it made? Mmmmm!
Have you got the time to sit down and make one in the next couple of weeks? If so, make it yourself (even if you've never crocheted before), otherwise, buy it made. You'll be wearing it every day!
Shop Now:
You're going to love wearing your Melbourne Snood!
With love, Lynda.