If you've ever wanted to learn to crochet or improve your crocheting skills, now is the perfect time to do so because there are many crochet courses available online that you can do from the comfort of your home, when it suits you.
Why Start Crocheting Now?
Whether you're a beginner when it comes to crocheting or you simply want to get better at it, now is a great time to pursue your goals. There are numerous crochet courses online that are a great place to start, but before you decide on the right one, you should know what to look for first. After all, not all online classes are alike, and if you're one of these people who gets easily confused with instructions that are written down, it's good to know that there is an easy solution to this problem.
First of all, it's always much easier to learn to crochet if you have a video that shows you exactly how to do each stitch, along with a detailed set of instructions so that each and every step is very clear. Crocheting is not complicated, but if you're a beginner, some of the stitches can be confusing at first. Let's face it, many people simply learn faster by having someone show them what they're trying to learn instead of reading about it in a set of instructions. If you're one of those people, it's best to find an online course that includes both videos and written instructions.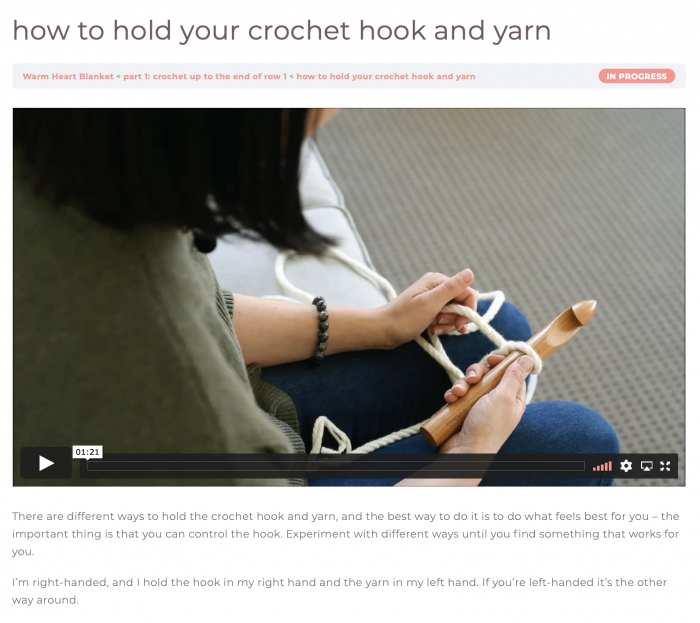 Does it Have to Be Difficult?
Regardless of your level of understanding, the fact is that many crochet patterns can be difficult to understand. Why? For one thing, crochet patterns aren't generally written for beginners or learning to crochet, which means the instructions may be hard to understand. If you're looking for a good crochet pattern, you should look for one that doesn't have a lot of abbreviations and one that is written in very clear, easy-to-understand language instead of lots of technical terminology. Before you sign up for an online course, check out some free patterns offered by the designer to make sure you understand them.
Of course, you'll also want to make sure that the designer offering the courses is easy to get in touch with when there's something you don't understand. Let's face it, one online course isn't enough to make you a crocheting expert, and there should always be someone you can get a hold of to explain things a little further. Personal attention is worth a lot, especially because questions and concerns are always going to pop up after the class ends and once you begin to practice some of the skills you learned in that class.
The Right Online Class Is Waiting for You
Online crocheting classes can easily be found, especially in these days of virtual learning. Finding classes that combine both written instructions and videos is the smartest thing to do. These classes can teach you how to make beautiful blankets, scarves, home projects, and even holiday decorations. Crocheting is a lot of fun, but most importantly, it is a great way to relieve stress at the end of the day and help you prepare for a better day tomorrow. With the right online class, you're off to a great start.