Are you looking for some easy crochet projects to start learning how to crochet?
You're in luck! We've put together a list of 13 easy crochet projects that are perfect for beginners. With these simple projects, you'll be able to learn all the basics of crochet and have some fun projects to show for it.
Keep reading to discover the 13 easy crochet projects, and get started on your new crafting hobby today!
Learn to Crochet: 13 Easy Crochet Project Ideas for Beginners
1. Chunky Blanket:
Chunky Blanket – big yarns and big crochet hooks are the easiest way to crochet as it's easier to see and use. Choose a pattern that includes that basic crochet stitches that are repeated over and over again – our Warm Heart Blanket pattern and online course is ideal for this
2. Crochet Washcloth:
This simple project is a great way to learn to crochet and make something useful. To crochet a washcloth, you can use a combination of stitches which will help you learn the basics of crochet. It's always lovely to be able to use handmade washcloths, and they make great gifts as well.
3. Scarf: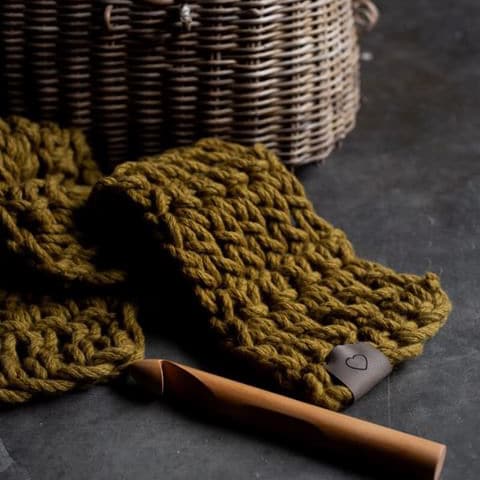 A scarf is a great project to learn basic stitches such as the single crochet stitch and practice adding fringes as a decorative touch.
4. Beanie Hat:
A beanie hat is a great project for beginners because it' doesn't have to be complicated – you can make simple beanies if you're just getting started. Making a beanie hat is a great project for beginners because you can learn how to crochet a beanie hat in no time with some practice.
5. Chunky Hearts:
Crocheting chunky hearts is a great way to learn crochet because they are simple and quick to make, which makes them perfect for beginners. The large size and simple stitch pattern allow for fast progress, which can boost confidence and motivation. Furthermore, chunky hearts can be used in a variety of ways, such as key chains, decorations, or even as a gift, which gives beginners a sense of accomplishment and a tangible result of their hard work.
6. Crochet Slippers:
Slippers are a cozy project that you can learn to make with some basic crochet stitches. It is great for beginners because you can customize it to your own style and fashion.
7. Fingerless Mitts:
Fingerless mitts are a great way to learn how to crochet while also making something useful. These mitts can keep your hands warm in the winter and are easy to make with the right equipment and tutorials.
8. Cowl: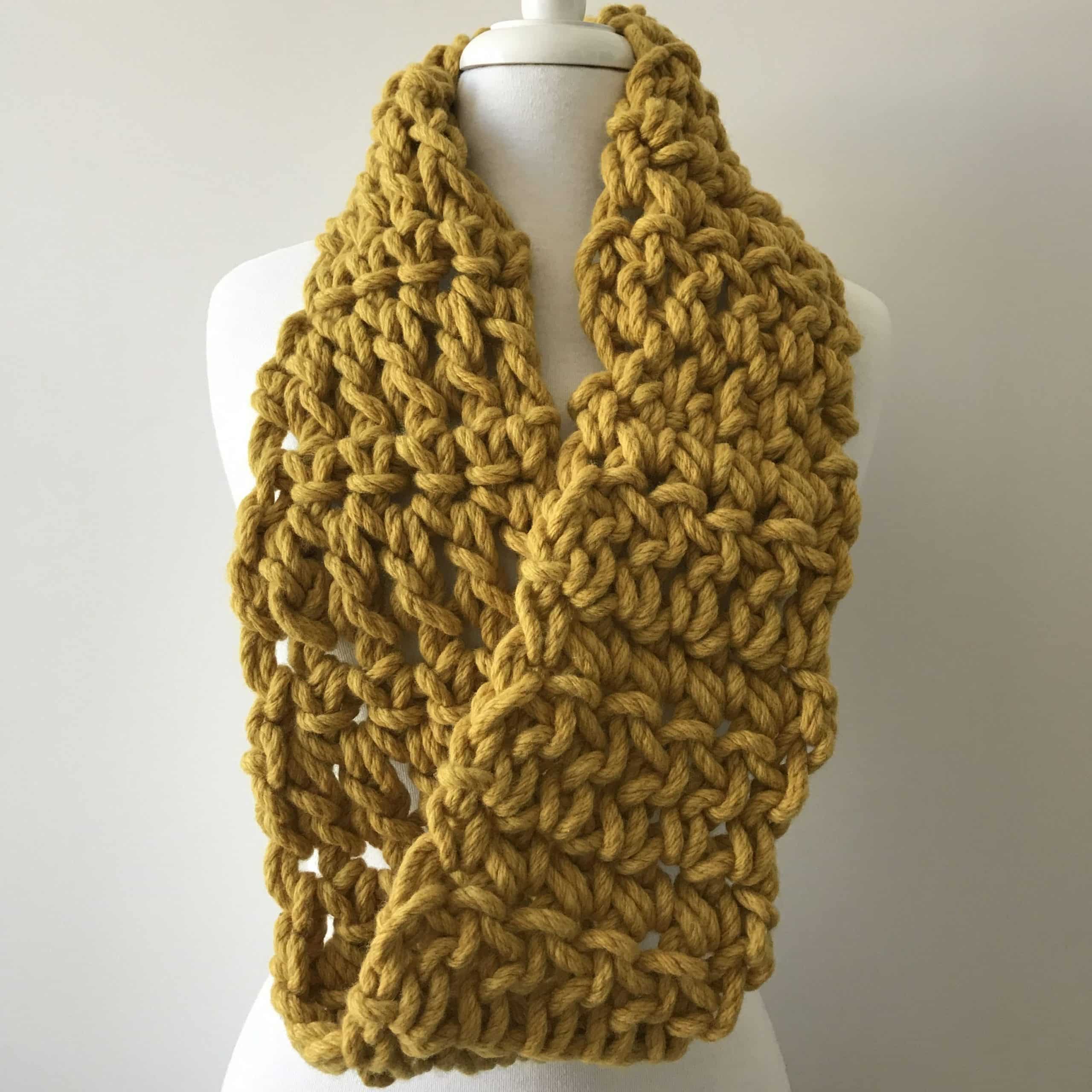 You can use almost any yarn thickness of your choice to create a unique cowl. You can also make it as long or short as you like! A cowl is also known as an infinity scarf or snood.
9. Chunky Floor Rug:
While a floor rug may seem like a complicated project to embark on, the Tour de Crochet chunky floor rug is a great way to learn crochet when using a chunky crochet yarn. Not only is it a great decorative addition to any space, but it is also a quick crochet project that any beginner can take on and finish in no time.
10. Crochet Trivet:
Crochet trivets are an ideal beginner project because they are small and can be completed in a short amount of time. They're also functional and will come in handy in the kitchen. You can learn easy techniques and crochet stitches while making them.
11. Tote Bag:
A tote bag is another great way to learn the basics of crocheting. This trendy project requires just a few simple stitches and can be made from any type of yarn. You can use any type of yarn to create the bag and make it as large or small as you want, depending on the look you're going for.
To give it a unique touch, you can add buttons or tassels. This is a great way to learn how to crochet and create something useful that you can take with you everywhere.
12. Crocheted Pot Holder:
A pot holder might not be the most glamorous project out there, but it's a great way to learn how to crochet. This project teaches you a few skills, like joining pieces together and weaving in the ends. Plus, it's really useful to have in the kitchen! All you need is some yarn and a crochet hook.
13. Crocheted Headband: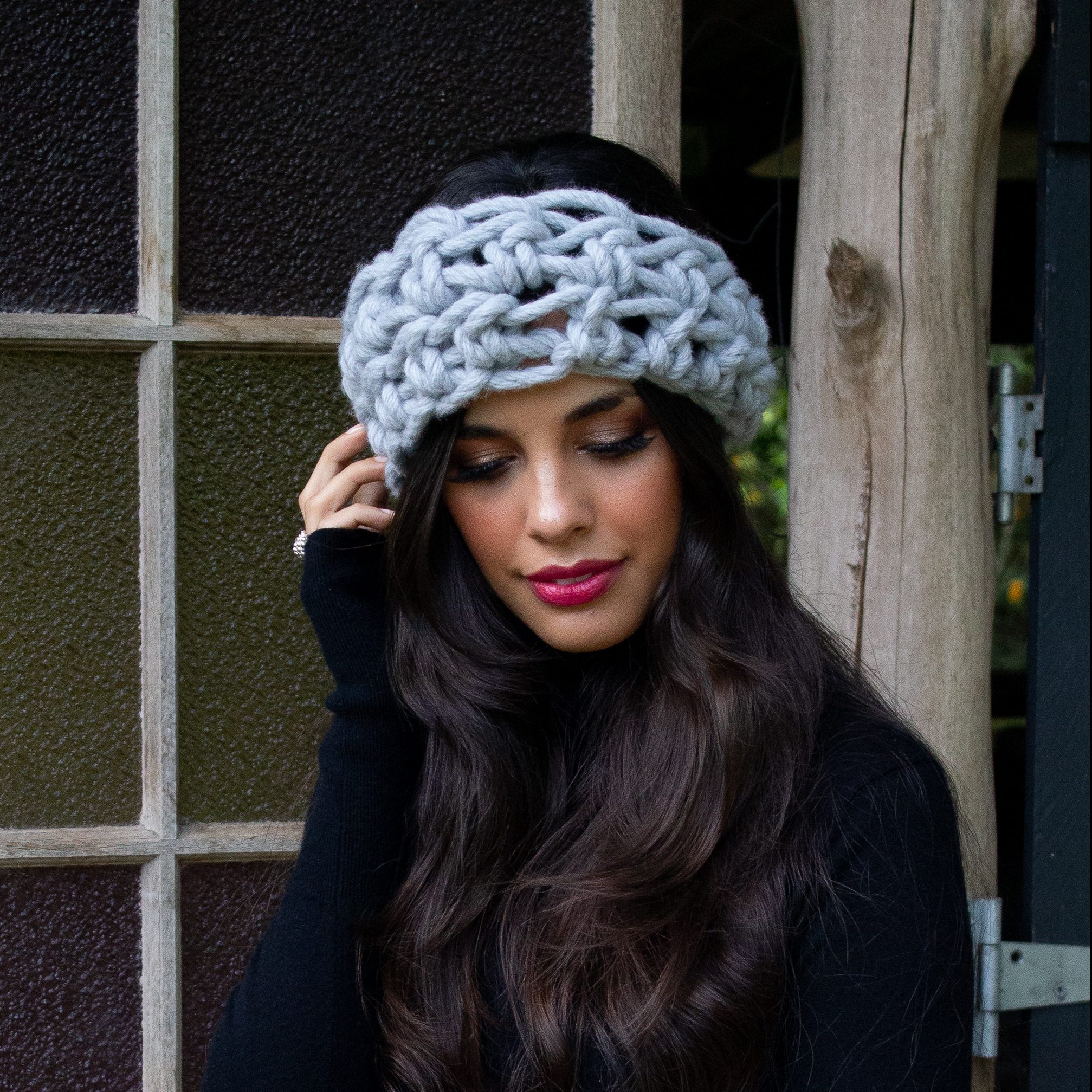 This project is a great way to learn several different stitches. The headband can be crocheted in any colour or type of yarn, and the texture will depend on whether you opt for a finer or thicker yarn.
What stitches do I need to learn for each project?
The number of stitches will vary depending on the project. For most projects, you'll need to learn the basic stitches such as chain stitches, single crochet, and double crochet. Other projects may require more advanced stitches like half-double crochet, treble crochet, and slip stitches.
Do I need special tools to learn how to crochet?
It depends on the project you're going for. Typically, to get started, the only tools needed are a crochet hook, some yarn and scissors. You may need other tools, such as stitch markers and a yarn needle depending on the project.
What is the best way to learn how to crochet?
The best way to learn how to crochet is by starting with simple projects. The 13 projects outlined above are perfect for beginners and will help you learn the basics of crocheting. Once you have mastered those, you can move on to more complicated projects.
Conclusion
With practice, you'll be able to create beautiful and unique crochet projects. The 13 easy crochet projects outlined above are great for beginners, as they will help you learn the basics of crocheting. Once you learn the basics, tackle a more challenging project to learn more advanced stitches.