Members get more: exclusive studio chat videos to watch, member-only crochet-a-longs and first access to lovely new crochet things.
studio chats and crochet-a-longs – yes please!
There so many ways to keep motivated and be inspired with a Homelea Lass membership!
Watch the weekly Studio Chats (the sessions are recorded so you can watch them when it suits you) and be part of one or all of the crochet-a-longs that will help you to finish what you start crocheting.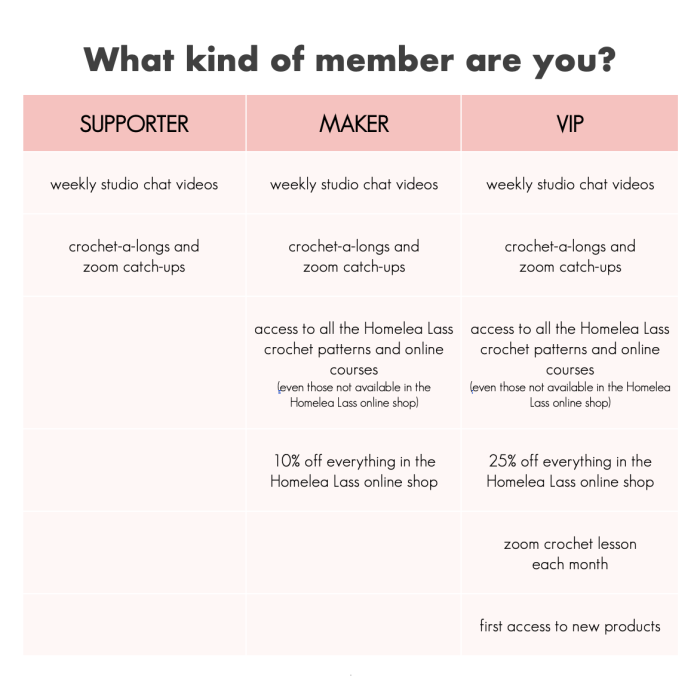 improve your crochet skills in the Beyond The Basic Crochet Stitches online course
Maker and VIP Memberships have exclusive access to my "Beyond the Basic Crochet Stitches" online course where you'll learn things like blocking, how to read pattern and charts, how to choose a different yarn to what's in the pattern and how to take beautiful photos of your crocheting. There's a new part released each month and you can see what's included here.
change, pause or cancel your membership any time
You've got complete control of your membership to change, pause or cancel it through your Homelea Lass account, or by emailing me at [email protected]. Memberships renew automatically (or you can do it manually) at the end of your current period until paused or cancelled. You can also change your membership type any time.
suitable for beginners and more advanced crocheters
Regardless if you're new to crocheting or have been crocheting for a long time, you'll love watching the weekly Studio Chat and participating in some or all of the crochet-a-longs (both of these are included in all of the membership levels).
If you'd like a crochet lesson with me each month than grab a VIP Membership while they're available and I'll help solve all your crocheting dilemmas and teach you what I know.
one-on-one help from a crochet expert
VIP memberships include a Crochet Help Session with me each month on Zoom. In these 30 minute sessions I'll help you with any crochet pattern and they're easy to book online (just so you know, they do expire at the end of your membership month).
This is the only way to get individual in-person help from me and you also have the option to book more sessions (they're $50 for 30 minutes).
Why get a VIP membership over a Maker membership?
The Maker membership is the most popular. The advantage of the VIP membership over the Maker membership is 25% off in my online shop, a zoom crochet lesson with me each month, and first access to new kits and products.
I'm looking forward to making lots of lovely things with you!
With love, Lynda.