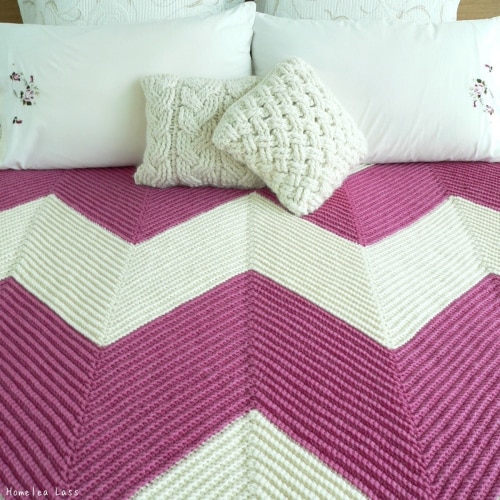 My Coconut Ice Chevron Blanket has been quite popular so I thought I would share with you how I came up with this design and a bit more about the materials I used.
I was inspired to create a modern version of this favoured bedspread, to celebrate the art of crochet, to appreciate handmade textiles and to encourage the use of Australia grown and processed wool.
As a child I can remember my Great Grandmother having a crocheted bedspread. It was a treasured piece that took pride of place in the master bedroom. It is important to me that the treasured textiles and techniques from our past are not forgotten.
Chevrons are a popular modern design element and I have combined this with the striped colours of an old-fashioned sweet treat, Coconut Ice.
The crochet stitch used is double crochet in the back loop which creates a ribbed texture. The stitches are increased and decreased to form the chevron's zig-zags.
I designed this blanket using yarns from Bendigo Woollen Mills Rustic 100% wool range. The pink is "Wineberry"  and the cream is "Aran". These yarns are grown in New South Wales and are partially processed in Victoria.
You can find out more about the making of this blanket here and you can purchase the crochet pattern here.
Cheers,
Lynda.