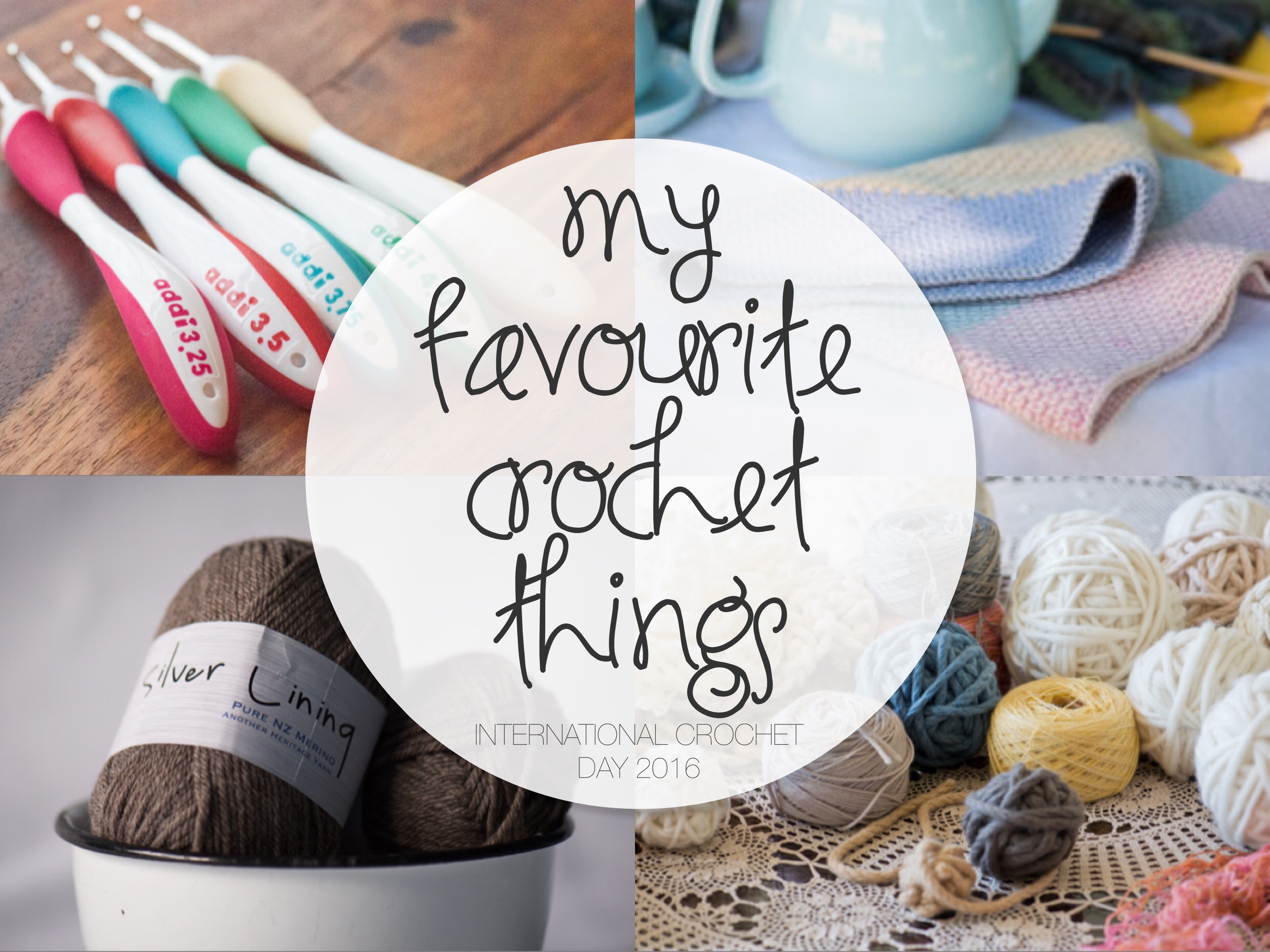 What's not to love about International Crochet Day? I love nothing more than sitting down and creating with my crochet hook and I love that it has it's own special day on September 12.
I've started a little bit of a tradition on International Crochet Day where I share my favourite crochet things (here's my favourites from over here to see my favourites from 2013 and 2014).
So here are my favourite crochet things in 2016.
Addi Swing Crochet Hooks

I've been crocheting with these babies for a couple of years now and I love their ergonomic feel. I first discovered them after getting pain in my hands and arms from too much crochet and now I'm able to crochet all day long with them.
I also love that they're all different colours and range in size from 0.5mm (teeny, teeny, tiny!) through to 8mm.
You can read more about them here.
My Uncommon Beauty Cowl Crochet Pattern
Earlier on in the year I was squishing some yarn that had been naturally dyed for me and I was hit with a flash of inspiration for a cowl design.
It became my Uncommon Beauty Cowl and it is the perfect combination of warmth and softness.
I love how the colours and textures are unusual and intriguing.
This has been my go-to cowl this winter because it keeps the cold winter winds off my neck.
You can find out more about my pattern and limited edition kits here.
Silver Lining Merino Wool Yarn 
I feel in love with Silver Lining when I knitted my first jumper with it. It feels so soft, squishy and warm. Ahhhh yarn heaven.
I also love that it's fully grown and made in New Zealand from coloured wool. It celebrates a line of merino sheep that are rare and geographically separate – it's a very special yarn.
My Soulful Yarn School
I love discovering and sharing beautiful yarns that feel good and that make me feel good.
Each month I love nothing more intuitively selecting the next soulful yarn, designing a crochet pattern to suit and sending them off around the world.
This brings me so much joy!
My Soulful Yarn School is currently on break and you can find out when the doors reopen by subscribing to my email newsletter here.
Why do you love crocheting? I'd love to hear it in the comments below.
With love, Lynda.