One of my lovely customers reached out recently and this is what she said:

"I love pom poms but I get annoyed when I can still pull fibres out once finished. Do you have a tip that prevents this?"
I completely understand this, and for this reason I didn't enjoy making pom poms until I tried making them with Homelea Bliss.
Why is Homelea Bliss perfect for making hearty pom poms? My beautiful Australian made merino wool is chunky, has texture, and is a natural fibre. It makes the most luscious pom poms I have ever felt. And yes, they don't fall apart, no matter how much you catch them on things, or are tempted to pull the fibres.
My top tip for making wholesome, soft and squishy pom poms is to use a chunky yarn. This is the key. A high quality yarn will keep together, fluff up to make a full pom pom and will stand the test of time in terms of shape, thickness and texture. To make the perfect pom pom I always suggest using the Pom Pom Kit which comes complete with Pom Pom Maker as well instructions and video tutorials to guide you through your making journey. The maker ensures that the fibres are tied nice and tight avoiding any looseness within the centre of the pom pom. The pom pom stays together tighly and continues to fill out as it expands over time. Pom poms made with Homelea Bliss actually get more enjoyable the more they are used!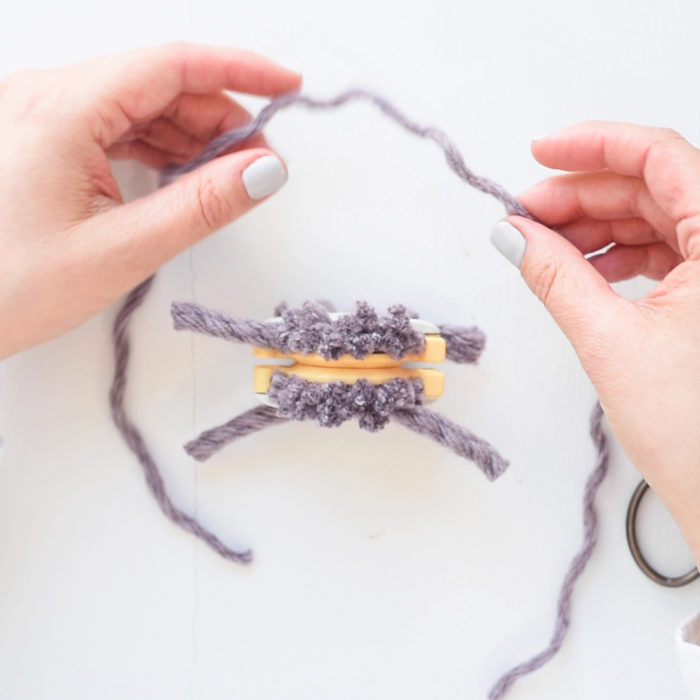 I've done extensive testing of my Homelea Bliss pompoms clip on my keys and bags and I haven't had any fibres fall out – if anything they've filled out more since I've been using them, keeping the fibers nice and secure.
If you're interested in making a pom pom key ring or bag clip, see the kits I have available here.
Want to learn more about making the perfect pom pom? See a blog I wrote about it right here.
If you want to make lots and lots of chunky pom poms, have a look at my mini skeins. Theyare just $35 and come in some fabulous colours such as: grey, dusky rose (pink), mushroom (purple), donkey (soft brown), olive (dark green), mustard yellow, steele blue, navy blue, natural (undyed), oatmeal and black.
Why not start with a pom pom key ring and work your way up to a pom pom beanie or teapot cosy? There's plenty to be made! And, we offer AfterPay!
As always if you have any questions regarding your makings, or practicing mindfulness through crochet, please get in touch!
With love, Lynda.