I've been surprised just how stressful it is to live through the COVID-19 pandemic. Adjusting to change takes time, and although we all had great creative dreams at the start, it's okay if you're struggling to achieve them.
The concept of self-isolation isn't new to me – chronic fatigue forced me into living an isolated life 8 years ago. I'm happy staying at home for days on end, and I'm a queen of shopping online. On paper, self-isolation should be easy for me but I've struggled with adjusting to all the outside changes that are happening, and the grief of having my lifestyle pulled out from under my feet.
Life at present is a wave of emotions. It's raw and vulnerable.
I have complete and utter respect for anyone that is adjusting to working from home, caring for little people, supervising remote schooling and running a household. For anyone that leaves home each day to provide the services that we're now more reliant on than ever, and for those people that are reaching out and supporting the most vulnerable people in our communities. Thank you. So many thank yous.
But regardless of what our individual circumstances are, life is different and it's hard at present. It's hard to concentrate and it can be hard to get through the day. It's totally okay if you're struggling, and it's okay if your creative dreams still live inside your head.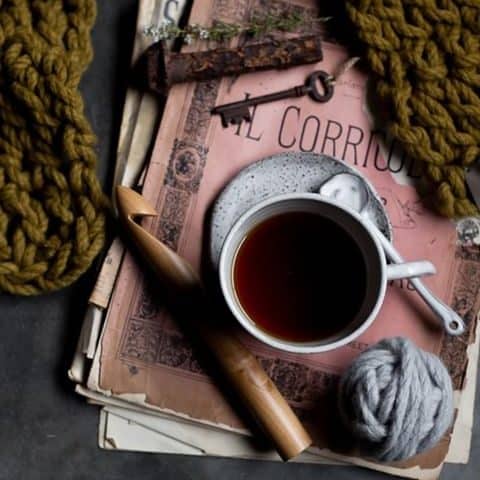 I had great dreams of cooking all these amazing healthy meals during self-isolation.
Of putting my Thermomix to full use and having a fridge full of nutritious meals and snacks. Maybe I'd even bake bread again! The reality – shopping in the supermarket was stressful (hello 1.5m), getting all the ingredients was hard and after a full day at work, the enthusiasm (and energy) for making something new just wasn't there.
Somewhere in the last couple of weeks, I gave myself a leave pass – as long as I was happy and productive, nothing else mattered.
It was okay to put my cooking and baking dreams on hold until I had the mental and physical capacity to handle them. I've eaten a lot more takeaway than normal, and I suspect that I may be the queen of comfort eating, but do you know what? It's okay because I'm happy and I make it into the studio each day. That's enough for now.
It's okay if you haven't started crocheting yet.
It's okay (and completely understandable) if you've got a crochet kit waiting for you. It's okay to give yourself a leave pass, and say "I'll do this later".
It's okay to find joy in the feel of the yarn and to feel calmed by the colour you've chosen. It's okay to feel satisfied that you are going to crochet one day and find peace in having a creative dream. It's okay.
It's okay to try crocheting and felt frustrated.
Learning to crochet takes mental energy. You need to be able to concentrate and you need mental space to do it. If you've tried watching the videos and you just haven't been able to do it, it's okay.
When you reach the point of frustration, take a couple of deep breaths. Breathe in through your nose, deeply, and then breath out through your mouth, deeply. Let it all go.
It's okay to put your crocheting down and come back to it later when you're feeling fresh. It's okay to just enjoy looking at it, and have the inner knowing that one day you'll be able to use what you make. It's okay.
It's okay to ask for help.
If you normally should be able to do this and you just can't, it's okay to ask for help. To feel vulnerable but know that this is something you want to be able to do.
I hope this has helped you. Know that whatever you are experiencing right now is okay. You don't need to be kicking huge goals, and when you do master crochet it's going to be even more rewarding!
With love, Lynda.