Hello lovely, how has your week been?
After a month of wonderful craziness, this week has been quieter and it's been so nice. I'm feeling like myself again.
This week I've immersed myself in Shelley Husband's Granny Square Flair book. You might know Shelley as "spincushions" on Instagram and Facebook – she's a crochet guru and a lovely lady as well!
All about Granny Square Flair
I've flirted with granny squares every now and again, but I've never really enjoyed making them. After having a go with a couple of Shelley's square patterns I'm now well and truly hooked – I've made one project and have another one underway.
Shelley has developed a granny square methodology that makes squares look good, and they're enjoyable to make. I love her starting chain alternatives, her way of ending the round and her colour suggestions. Every square pattern (there's 50 of them) has written instructions and a crochet chart – I love how quickly I can crochet from a chart.
Granny Square Flair is a must-have for anyone that has mastered the basics of crochet. If you understand how to do the basic stitches, then give Granny Square Flair a go – you'll be whipping up square-y projects in no time!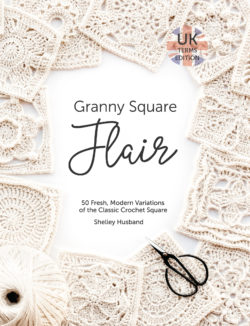 How to Crochet a Chunky Cushion
I've made a gorgeous chunky cushion using one of the patterns in Granny Square Flair, and I'd love to share with you how to make one too.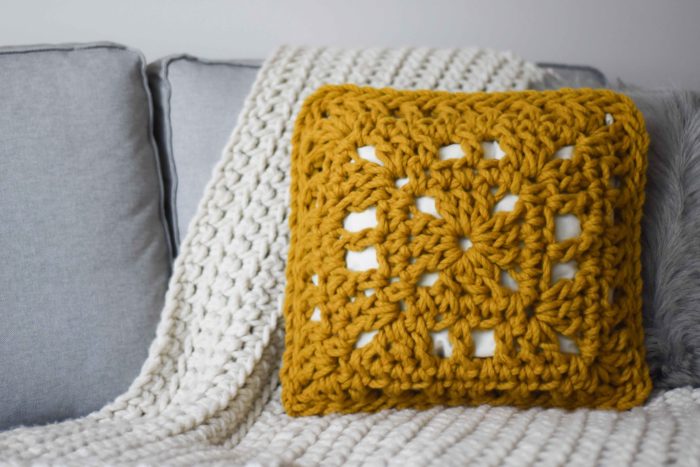 What you'll need . . .
What to do . . .
Roll your skeins of Homelea Bliss into balls using a yarn swift or by lying your skeins out on your lap.
Using Shelley's Banda pattern (page 77) from Granny Square Flair, make 2 squares. Do this by crocheting rounds 1 to 5 of the Banda pattern. In round 5, replace the 3 chain spaces with "chain, treble, chain" (or "chain, double crochet, chain" if you're using the US terminology). I started my squares using a magic loop and used the starting chain alternative – the instructions on how to do both of these are at the start of the book. I also joined the balls of yarn using my Chunky Yarn Joining Kit.
Weave in the ends of your squares using your fingers.
Put your square together with the right sides facing out. Crochet them together by working a slip stitch in each of the outside stitches. Do this on 3 sides of your square.
Put your cushion inside your joined square.
Slip stitch the remaining side of your squares and weave in the ends using your fingers.
Put your cushion somewhere you'll see it all the time – isn't it pretty!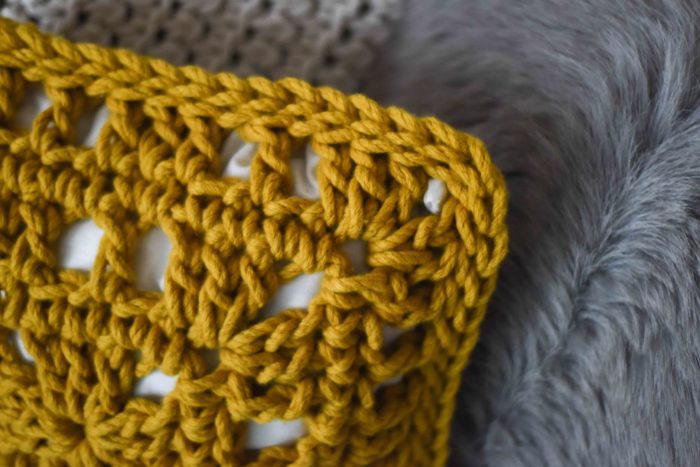 Giveaway Time! (note this giveaway is now closed)
Shelley would love to giveaway a copy of Granny Square Flair, and I'd love to giveaway some chunky goodies too!
The winner will receive:
a copy of Granny Square Flair
3 x 300g skeins of Homelea Biss
17mm bamboo crochet hook
chunky yarn scissors
To enter – simply comment below with why you'd love a copy of Granny Square Flair.
Entries close on Sunday 19th August 2018, you can enter from anywhere in the world and entries are limited to one per person.
Good luck!
With love, Lynda.