If you're like me you've been working your way through your home and applying all of Marie Kondo's wisdom to your decluttering, tidying, sorting and cleaning. My home is feeling so much better for it, and I'm amazed at how positive and beaming my home feels now! I've even applied Marie's principles to my crocheting, and you can do this too.
Here's how to "spark joy" with your crocheting:
• Sort out your yarn stash – Get all your yarns together in one place and work out which ones make you feel good – they'll stay in your stash. I love nothing more than going through my yarn stash and working out what I'll make next – it's like my own personal yarn store! With the yarns that you're not keeping – why make a few quick projects for charity, donate them to your local op shop or sell them on eBay or Etsy?
• Sort out your hooks and other tools – Just like with your yarns, get all your crochet hooks and other making tools together – you'll be surprised just how many you have! Only keep the ones that "spark joy".
• Sort out your projects – When I had my sort out I was horrified to discover a couple of projects in the back of a drawer that I'd forgotten about! Bundle all of your unfinished projects together and determine if they spark joy for you or not. Are they making you feel good? If not, feel free to pull them out and find a new project for the yarn, or get rid of the yarn altogether.
• Make them look good – Is it possible for you to have your hooks, tools, yarns and projects out on display? I've moved things around so all my making supplies are out on display – it makes me feel good every time I see it. My hooks are stored in glass vases and my tools sit in a glass bowl. My projects are all on a shelf together in white baskets and my yarn stash are divided into 2 – the yarns I want to use next are on the shelf with my projects, and the rest are stored in clear plastic boxes. These are great because it protects them from nasty pests and dust, and I can still easily see what's in each box with easy access.
• Change how you buy yarns, hooks and other tools – I've discovered that crocheting with natural fibre yarns makes me feel so much better than when I'm crocheting with acrylic yarns. I also love supporting local growers, mills and dyers so I love nothing more than crocheting with natural fibres that are grown and processed right here in Australia, and my yarn stash is full of them. I've also discovered that I love hooks made from wood – I love how natural and connected to the earth I feel when I use them.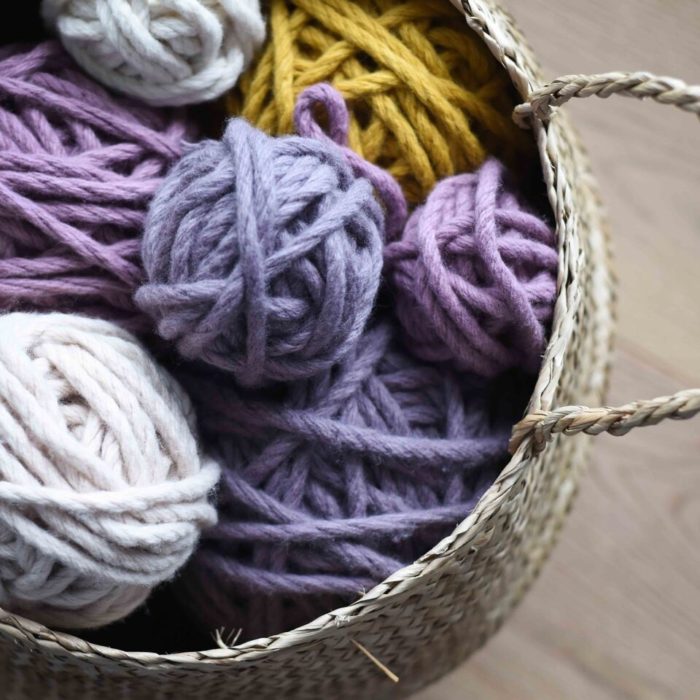 This is actually the second time I've written a blog about the appreciation I have for joyful little items (like my Sajou tape measure), since discovering Marie Kondo's method. It's safe to say that I am truly amazed how this has changed my relationship to making! I don't feel compelled to start every beautiful project I see because I know I have 5 projects that I'm working on already. I also don't feel like I need to buy more yarn because I regularly see all the beautiful yarns I already have. I can also now easily find all of my tools so I'm not buying the same thing I already have.
With love, Lynda.