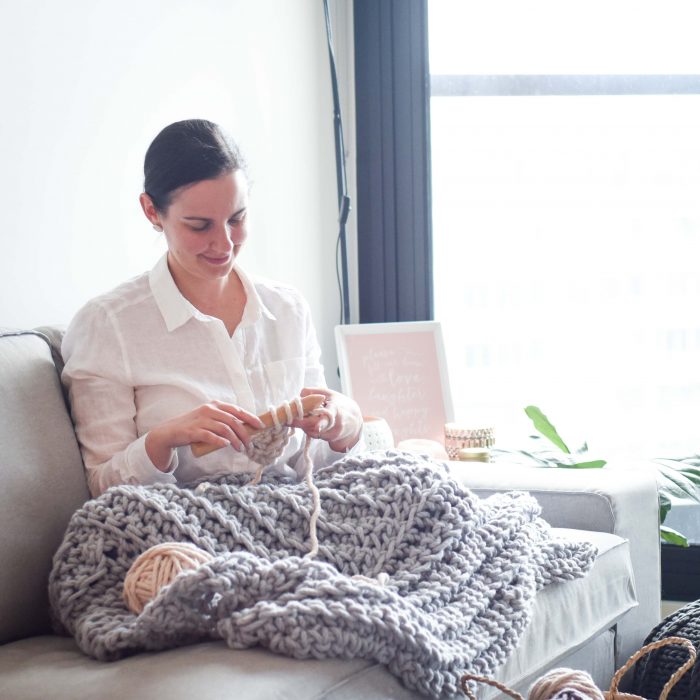 You spend a lot of time and energy crocheting blankets, and it's important that they look amazing so they'll be loved and used for many, many years.
Here at Homelea Lass we've been designing and making crochet blankets for years and we've learnt what works and what doesn't. Here are our top 5 tips for crocheting beautiful blankets:
To get straight edges put a stitch marker into the stitches at the start and end of the row and always turn your crocheting the same way at the end of the row.
Use a quality natural yarn – your stitches will look so much better with a natural fibre yarn. They have an inherent beauty which can't be replicated by man-made materials, and the bonus is that natural fibres are biodegradable.
Go chunky! Chunky crochet is quicker and easier than using normal sized yarn, and the big stitches instantly make everything look amazing.
Embrace imperfection – the nature of handmade is imperfection and this is what makes each blanket uniquely beautiful. Enjoy the making and your enjoyment and love will be woven into each stitch.
Create seamless joins by using the Chunky Yarn Joining Kit to join the new balls of yarn and say goodbye to unsightly yarn joins.
Do you want to crochet beautiful chunky blankets too?
Homelea Lass crochet blankets are admired worldwide, and so many people love making them easily with our online crochet courses.
Slip into the mindful flow of chunky crochet in Blanket School – there are videos to show you exactly what to do, and we'll help you with any crochet pattern in our live Crochet Help sessions.
In Blanket School we help you with working out how much yarn you'll need, and make sure you've got the right tools. Our Mindful Moments help you to feel calm and crochet with ease and grace, and you'll love seeing your blankets quickly come to life.
Join Blanket School now by popping over here.
I'm looking forward to helping you crochet beautiful blankets!
With love, Lynda.